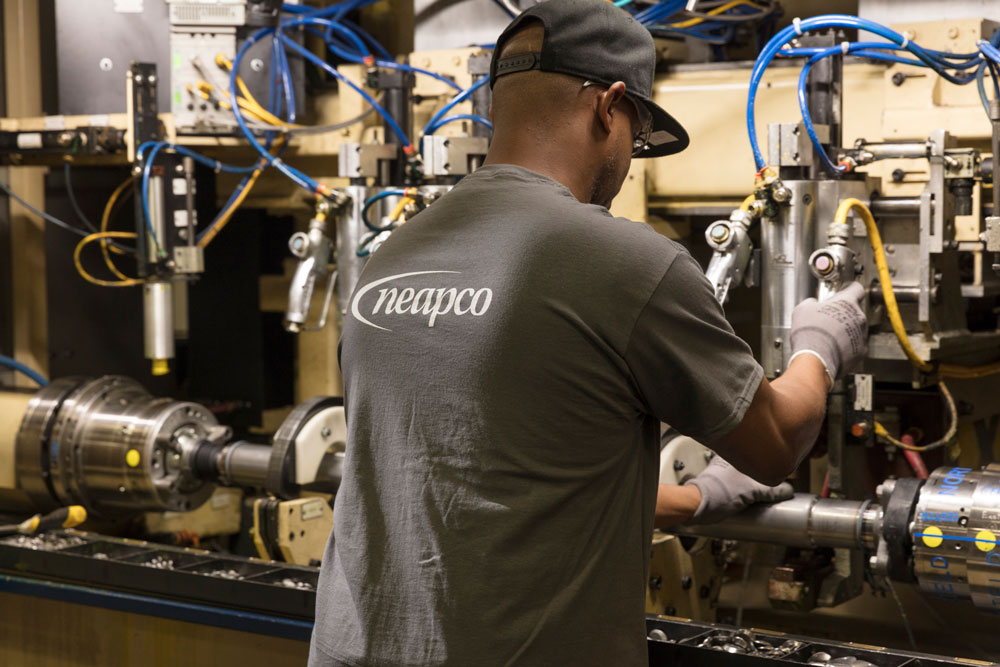 03.31.2022
11 Women On What it Means to Succeed in the Automotive Industry
March is Women's History Month. While Neapco has numerous stories of female trailblazers throughout our 101-year history, we wanted to bring attention to the women who are influencing our organization—and the automotive industry at large—today, in 2022.
We heard from 11 Neapco team members, including:
Regina Banda | Training & Organizational Development Coordinator | >1 Year at Neapco
Rosario De la Mora Salazar | Customer Service | 4 Years at Neapco
Carolin Esser | Assistant Manager | 5 Years at Neapco
Savanga Fraser | Executive Admin | 8 Years at Neapco
Terri Kashawlic | Global Supply Chain Coordinator | 9 Years at Neapco
Susan Krawczyk | Purchasing Director | 2 Years at Neapco
Jayla Mosley | Human Resources Generalist | >1 Year at Neapco
Alina Stollenwerk | Program Manager | 12 Years at Neapco
Amber Stettnichs | Senior Product Development Engineer | 5 Years at Neapco
Becky Weinberg | Director, Global Sustainability | 9 Years at Neapco
Ann Westfall | Project Manager – Systems Implementation | 3 Years at Neapco
From advice for up-and-coming automotive industry leaders to the importance of women to Neapco's success, here's what they said.
What advice would you give to women seeking a career in the automotive industry?
Stay strong in your convictions.
Be flexible—no day is like the other!
Everything is possible—never give up.
Look for the things that make you feel motivated.
Do not let fear hold you back, be authentically you!
Stand your ground, be heard and don't ever let anyone dismiss you.
Choose the right company for you. Ensuring you align with an organization's culture is so much more important than finding the perfect job description.
Ignore all the prejudices and do your own thing. Be charming on the outside and a warrior on the inside against all who think you are not good enough. Let your successes speak for themselves.
Don't be afraid to be different than the status quo. Bring your talents and perspectives to the automotive space to continue challenging and advancing your colleagues and yourself. Your voice matters—it can and will make a difference.
Although automotive may not be viewed as progressive as other sectors, our industry is changing at a very rapid pace. New startup mentality, the recruiting of progressive-thinking talent and electrification is really changing this 100+-year-old industry.
This industry can be difficult for women navigating the pressures of balancing a successful career while also managing a family. I would advise other women to never compromise on their home-life values and priorities and to seek out employers like Neapco who support a flexible work-life balance.
How do women make an impact on the automotive industry's success?
Women are responsible and work hard.
Women are driven to make things happen.
Women bring balance and great leadership to the automotive sector.
Women make this company run with their knowledge and experience.
Women bring all of their personal and unique experiences to the table.
Women can make an impact and contribute to future growth potential.
Women are multifunctional, bring empathy and add that certain spice a team needs to thrive.
Women work hard to achieve company goals, and we continuously grow in our knowledge and responsibility.
Women—within every department—bring in different perspectives and ways of thinking about problems and solutions.
Women are willing to step in and help on tasks outside of our job descriptions, and sometimes outside our comfort zones.
Women bring a valuable perspective to the table in many ways. Oftentimes, and especially in automotive, answers may seem obvious on paper, but there are usually several elements that may not have been considered. It is typically women who point this out and add more depth to the topic at hand.
What do you enjoy most about working at Neapco?
My coworkers.
The fast pace.
The schedule and company culture.
The people—I've made many friends here.
Incredible opportunities and amazing coworkers.
It's a company that is only growing up, and leadership protected all of us during the pandemic.
I enjoy that every day is a new challenge and that we have a supportive team to tackle every issue.
I see Neapco as a big family. Try to share a smile every day, be nice to everyone and you will be surprised how much love you will get back.
I like the ability to make an impact. Neapco has a small-company feel with growth and future potential to become a much bigger company.
Every day has new, surprising and challenging tasks which you can finish with your global team. Each day is different, and you never know what comes next.
I am constantly impressed by the sense of teamwork and camaraderie at Neapco! It is an environment where individual successes and achievements are celebrated by all, and there is a common goal of striving to make Neapco "better, faster and stronger".
These women are just 11 of many who are currently influencing Neapco and the automotive industry. With a need to bridge the skills gap and push innovation forward, women will be more important than ever in our business.