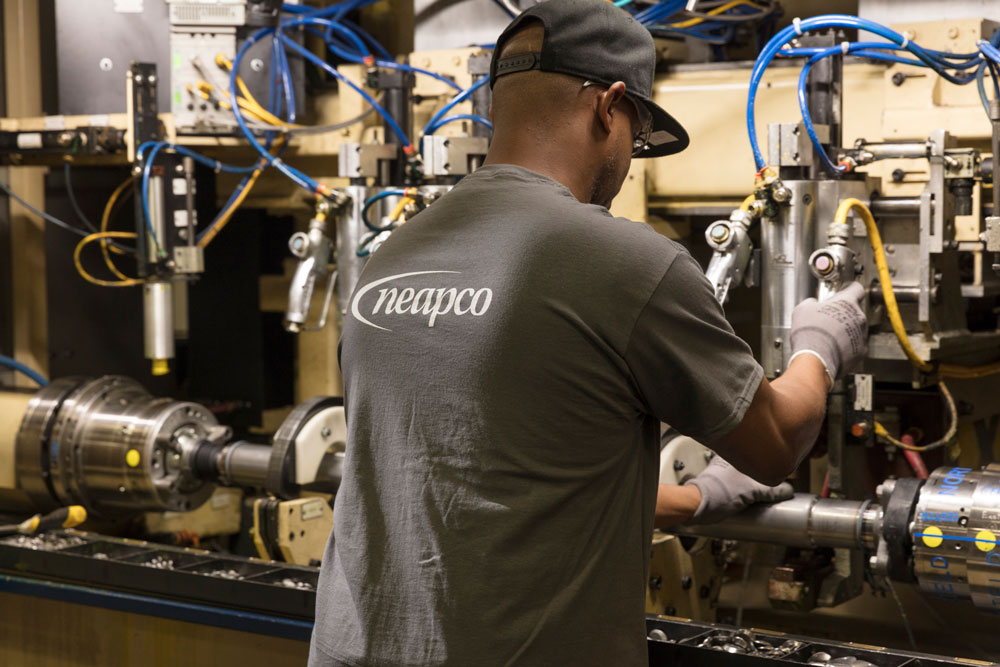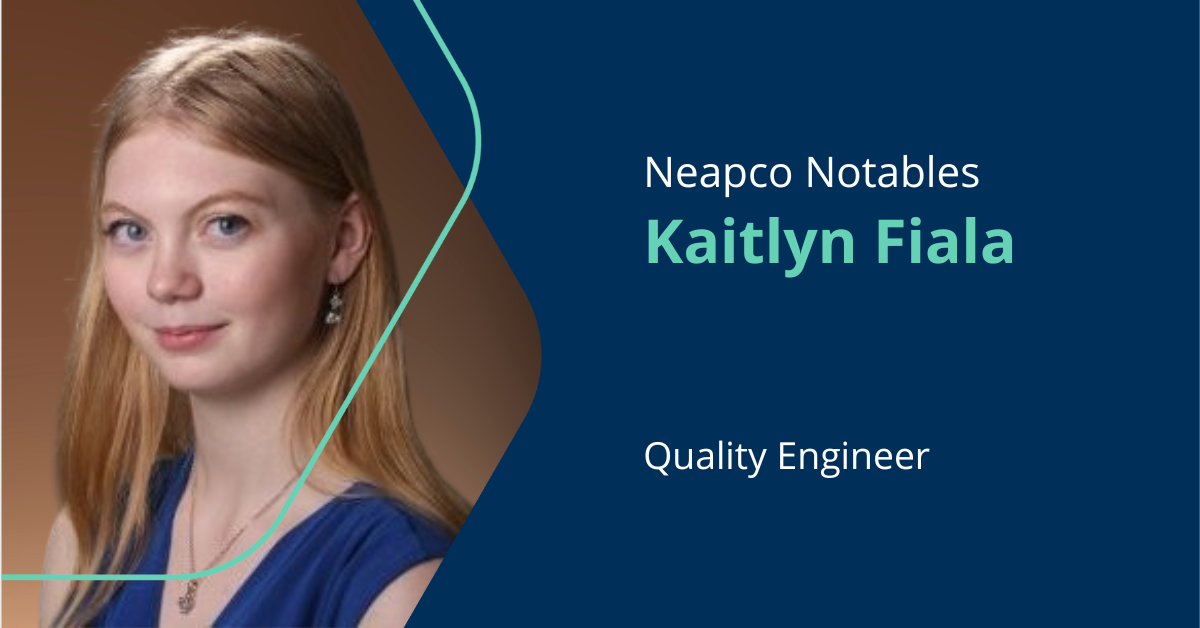 07.11.2023
Neapco Notables | Kaitlyn Fiala, Quality Engineer
Neapco takes great pride in its exceptional team of talented individuals who lead the way in advancing our organization on a global scale. Their unwavering commitment and enthusiasm form the bedrock of our achievements.
In this edition of Neapco Notables, we are highlighting Kaitlyn Fiala, who joined our team in Beatrice, Nebraska in 2022 as a quality engineer.
We sat down with Kaitlyn to learn more about how previous experiences prepared her for success in her current role, what drew her to Neapco and more.
How have your previous experiences prepared you for your role today? 
Before starting at Neapco, I had several internships focusing on continuous improvement, quality and safety in the composites, transportation and mining industries. However, I believe that my internship at a molded fiberglass company best prepared me for what I do today.
The molded fiberglass company I worked at builds large wind turbine blades and I learned about the importance of checking for quality and safety and what that entails. I learned that every step in production needs to be checked thoroughly for quality. This includes checking what you are making, checking that warranties do not fail, making sure items are not incorrectly shipped and more. Then if something does go wrong, you have to figure out what caused the mistake and identify a solution so it doesn't happen again. It is important to be proactive and reactive in this field to ensure everything is the way it should be — and that's a lot harder to do than some people think.
What drew you to Neapco?
Growing up, my dad always had old cars and they were very intriguing to my brother and me. As he got older, my brother got even more interested in cars and he started restoring one recently. I've been lucky enough to help him make some progress. So, when I found Neapco it just seemed like a natural fit. Because of my upbringing, I was already familiar with automotive parts, and having the opportunity to work for a well-known company in the automotive industry is something that excited me.
What is something important you've learned while working at Neapco?
I have learned so much from the audit work I do for Neapco. In my role, I am in charge of all of the internal audits and working with our third-party auditors. The most beneficial thing that I've learned is getting prepared for audits is just as hard as it is to answer non-conformances to audits. Even if you feel very prepared, an audit can still find something that maybe was not out of place yesterday but is out of place today. Learning how to maneuver these different third-party audits has been a huge learning experience for me.
What do you enjoy most about working at Neapco?
I really enjoy having the opportunity to work with individuals outside of our organization on third-party audits. It's really nice to be able to work with people who have an outside perspective of the company. They're not on the inside seeing it every day like I am, so they may see things I wouldn't catch right away because I've looked at it a hundred times before. They come in with a fresh set of eyes, which has been extremely helpful.
I also enjoy being a resource to our team around the globe. In just a year, I've become extremely familiar with our auditing processes and program and thus have been coined Neapco's audit guru. When they have issues they'll send me messages or give me a call, and I'm more than happy to help them work through the issue.
How do you stay busy outside of the office?
I really enjoy participating in local Renaissance festivals. Some of the vendors hire me from time to time to help with planning and other needs during the summer. I also support roller skating events back home in Omaha.
Additionally, I spend time working on cosplays and I travel across the Midwest to attend conventions. I really enjoy dressing up as different characters and meeting new people at events. My work profile picture is actually one of my cosplay costumes where I'm dressed up as a giant pumpkin head. Next year, I plan to attend some really cool anime conventions and Comic Con conventions.
Interested in joining the Neapco team? Click here to take a look at our open positions.